Best Game Trailer Professional In Baltimore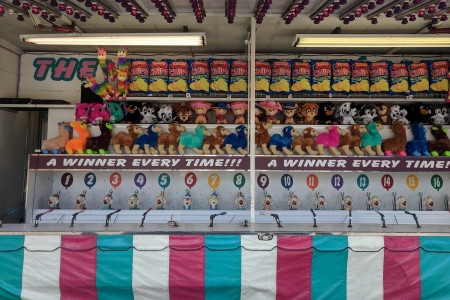 High-quality fun is just a phone call away when you work with McManus Amusements for your game trailer needs in Baltimore. Whether you're participating in a fundraiser for your local church or you're hosting your own carnival, our game trailers will be the perfect addition to your entertainment event. As a full-service party rental company, it's important to us that we provide a variety of game trailers so that your patrons have options to choose from when they want to play. No matter how big or small your event is, we'll be happy to bring in game trailers that we know everyone will love. Just a few of our featured games include:
Water Gun Race
Apple Dart
Krazy Kans
McManus Amusements is happy to be the company that offers Baltimore tent rentals and more for their outdoor events and celebrations. Add yourself to our list of satisfied customers by giving us a call the next time you have a carnival or party planned that could benefit from our game trailers.
Carnival & Table Top Equipment
Everyone loves a good carnival game, especially ones that bring the nostalgia of classic candy-striped stalls and the smell of popcorn. Sometimes people wonder if carnival games are rigged to make them lose both the game and their money. Well, with McManus Amusements, you won't have to worry about that. All of our game trailers are fair and you'll surely be able to win something with every try you make. No secrets, buttons, or gadgets to keep you waiting for a prize- just a space for you to show off your skills and have fun doing it!
Our carnival games are a great way to bring fun and excitement to your outdoor event, and they're perfect for participation from people of all ages. We'll make sure your carnival games are set up in a timely and organized fashion so they can be used right as your carnival gates open! Once the party has ended and your attendees head home, we'll break down the stalls and make sure your property is clean and clear. You can rely on our team for high-quality products of all kinds for your next carnival or party, including concession rentals to make sure your patrons are fed. We can do it all when it comes to good clean fun in Baltimore, just give us a call!