Inflatables Professionals Serving Clients In Baltimore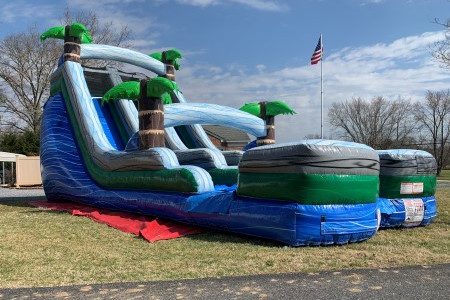 When you're looking to rent an inflatable for your next party, fundraiser, or other event in Baltimore, a great place to start is with McManus Amusements. We are proud to offer a variable selection of inflatable rentals, from bounce houses to games like skeeball and basketball. Everyone that attends your outdoor get-together will love the inflatables we provide! They are always a hit with children and even adults, and parents love to see their kids having fun. Inflatables are an easy choice for fundraising planners and residential party-throwers alike, making them the perfect option for any event or celebration.
McManus Amusements is a professionally licensed event rental company, which means all of our inflatable products are regularly inspected and insured. We're no fly-by-night operation with amateur skills! Setting up and working with inflatables is always a job for an expert. When you work with us, you'll always get knowledgeable staff who can properly set up and break down your inflatables safely and with ease. We'd love to be your go-to company for inflatables and tent rentals in Baltimore, so give us a call when you want to work with a team that specializes in customer service excellence and high-quality products.
Our Inflatable Rentals
Here at McManus Amusements, we're passionate about fun, which is why we offer a variety of inflatable rentals for your next event in Baltimore:
Outdoor Movie Theater System: This inflatable is perfect for a backyard movie night or even for a movie night fundraiser. We use all commercial, high-quality equipment that can be heard and seen by large, spread-out groups. This package consists of the following:
Commercial Epson projector with high resolution for large viewing
Surround sound by Harbinger 12 inch PA speakers with microphone capabilities
HD 19ft Inflatable screen
One staff to serve as your technician
Tent to cover projector in the case of inclement weather
4K Blu-ray player
Bounce Houses: We've all been to a party where there's a bounce house and you can't deny it- they are always a hit! We provide multiple sizes and styles of bounce houses for children (and adults) of all ages to enjoy. Our products are sturdy and well-maintained, meaning you won't have to worry about damage or malfunction during use. Our team of professionals will always make sure your bounce house is set up the right way so you can enjoy it for the entirety of your event.
Games: Our inflatable choices also include multiple games for your party-goers to play, including basketball, baseball, and skeeball. They're easier to set up and take down than conventional carnival game trailers and you won't have to worry about wheeling them in or out.
The next time you're in need of inflatables of any kind in the Baltimore area, be sure to call McManus Amusements. We'll be happy to provide you with high-quality inflatables that will make your party or carnival the talk of the town!