Professional Tent Rental Company Serving Baltimore & Beyond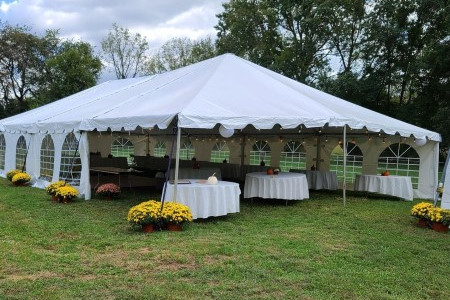 When you're searching for a tent rental company in Baltimore, look no further than McManus Amusements. We're a locally owned and operated company providing tent rentals to businesses and individuals alike for any of their event needs. It's our goal to provide clean, functional, and beautiful products to our clients every time. We believe that tents play a huge role in the success of any kind of outdoor celebration, which is why we're dedicated to providing the best products for you. Here at McManus Amusements, our reputation speaks for itself- as do our affordable prices and high-quality products.
We are a full-service tent rental company that specializes in frame tents, and we have a wide range of sizes and colors for you to choose from. As an amusement company, we offer more than the typical tent rental company. We offer benefits such as long-term rentals and specialized amenities for foodservice and sales. Our tent rentals in Baltimore can be used at carnivals, corporate events, residential parties, and small weddings! We also offer a few add-ons for our rental products:
Tent sides
LED lighting available upon request
Tables (60" round)
Tent heaters
Rain gutters (to combine multiple tents into one)
White chairs
Bar height/food service tables (10' long)
No matter what your need might be for your next party or event, we're the tent rental company you can rely on for the best service and products in Baltimore and the surrounding areas. All you have to do is call us to learn more about what we can offer you when it comes to tent rentals, inflatables, concessions rentals, and more.
Party Rental Services
No outdoor party is complete without a rental tent! That's why McManus Amusements is happy to be providing our customers in Baltimore with high-quality tent rentals and more for their party needs. As the area's leading tent rental company, we know just how stressful planning a party can be. From guest lists, catering, decorations, and more, you have enough on your plate. That's why we love taking care of setting up your rental tent- so you have the time and energy to spend on other things.
Your success is also our success, and we'll work tirelessly to make sure your rental tent works perfectly for your event. Give McManus Amusements a call when you need the expertise of a tent rental company for your next outdoor party and we'll be excited to help!